China Garden Dim Sum - Irvine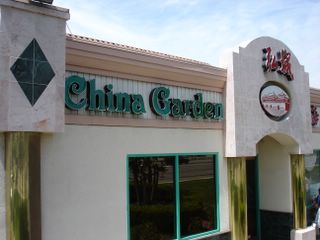 We arrived quite late in the afternoon on Saturday. It might have been around 2 pm. We waited only a short time, perhaps around 5 minutes and got a table. But alas, the table was in the side room, not in the main dining hall. This was not our first time at China Garden. This was probably our third or fourth, but by some cosmic force, every single time we did, we always get a table in this side room. The problem with the side room is this; the carts do not come around often. Those that did were carrying the same items we saw already. We saw the turnip cake tray come around three times before we ever saw the shu mai, which came once, and only after our repeated urging with the guy who refilled our tea pots. I'm more and more inclined to go to Sam Woo now. Because first, they don't have a side room, and also there's a menu that one could order everything in one fell swoop. I know, it takes away from the dim sum experience, but you weren't there in that side room last Saturday with a growling stomach.
Service and the undesirable location of our table notwithstanding, we had good dim sum.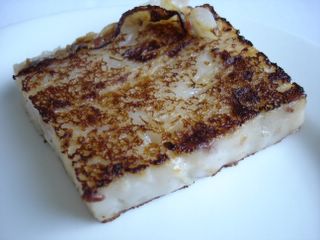 First was the turnip cake. Still hot and crispy on the exterior. I loved how the pudding-like texture played against the thin caramelized crust and the chunks of turnip. A good dip in chili paste completes the experience.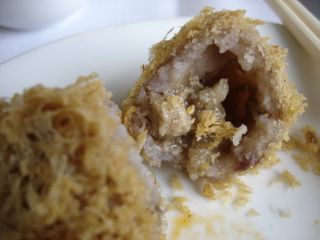 Then it was the taro balls. Filled with lightly curried minced meat, these delectable morsels are crispy and lacy on the outside, giving way to a warm starchy mash when bitten. Yummy!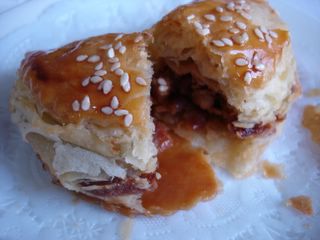 The BBQ flaky pastry was to die for. Probably the most surprising thing about this item was that it had a honey glazed crust that exploded with flavor. The cha su filling was sweet, savory and porky.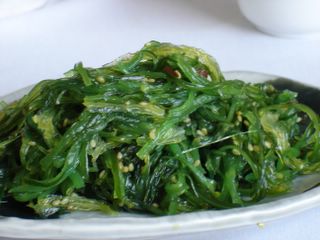 Next we picked out a palate cleanser; marinated seaweed. Luminous and green, it looked striking on our table. Clean and crunchy with the essence of the sea and a hint of sesame oil.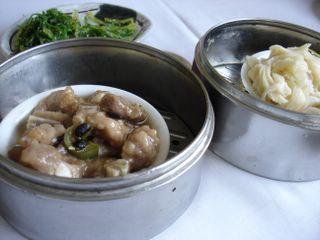 Then we had some tripe and braised pork short ribs. The tripe was simmered in a velvety sauce. It was rich and fatty, filling my mouth with tripy goodness. The tripe was just the way I like it. Not overly chewy, it was spiked with a good bit of ginger. The pork short ribs were also good. I would have liked a little stronger black bean flavor on it though.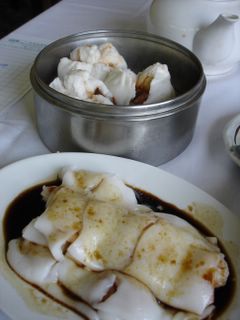 Finally, the cart with the rice flour wrapped shrimp finally came. I forgot what these things are called. Basically a sheet of rice flour, sort of a wide soft noodle is wrapped around steamed shrimp. The whole thing is then doused with a sweet soy sauce. The texture is a dreamy. Glutinuous and warm. Cha su buns promptly followed. Good and sweet. Typical cha su bun, nothing all that special, but still a must for any dim sum outing.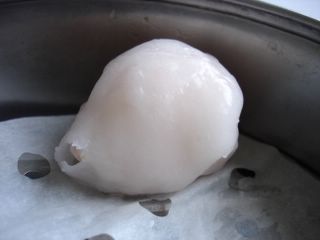 The shrimp har gow was okay. The skin seemed to be stickier than usual, and quite thick.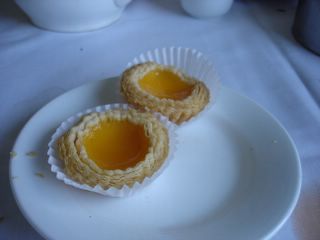 We finished with a few egg custard tarts. They had a light, sweet, flaky crust contrasting the cool custard; one of the better renditions I've had.
Irvine China Garden
(949) 653-9988
14825 Jeffrey Rd
Irvine, CA 92618