Indo-town in West Covina?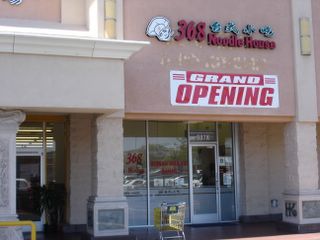 There's a new hole in the wall in West Covina called 368 Noodle House. It's located in the Hong Kong Plaza on Glendora Ave. They have your typical Chinese noodle soup menu, but since it is owned and operated by an Indonesian family, they also do traditional Indonesian dishes. I recently tried the Nasi Campur ($5.50) which was a dish of steamed rice with a sampling of various Indonesian stewed items.
On my plate were:
1. A piece of chicken thigh cooked in a sweet and spicy red sauce (rich and full-bodied)
2. A piece of deep-fried seasoned beef called "empal" (faintly crispy and not too salty)
3. Something akin to "mother-in-law eggs", where a hard boiled egg is deep fried and then simmered in a chili sauce (this was not very good since the egg was overcooked to the point of being leathery)
4. Fresh cut cucumbers topped with a spoonful of sambal (Indonesian chili paste) There were supposed to be two vegetable items on the plate that they had run out of, but for what I got, I was satisfied and quite full.
This dish was like a single serving rijstafel.
They also serve "Ayam Goreng Suharti-style" Fried Chicken ($6.00). Which is a side of chicken deep fried and topped with what I can best describe as a crispy fried confetti made of flour and coconut. The chicken is served with steamed rice and a garnish of "lalapan" - a few cucumbers, lime, and sambal for dipping.
The trick to eating this is to get some of the crispy stuff with every bite of the moist chicken.
Another item we tried from the Indonesian menu was the Nasi Gudeg ($5.50), which is a rustic stew of young jackfruit (sweet and savory), a light orange stew of chili and pork rinds (goopy and great), cooked tofu (firm and sweet), egg, and chicken leg, all served with white rice. Sambal and sliced cucumbers was also included. The jackfruit stew was as good as I've had in Indonesia. This was a substantial dish though, and probably quite exotic and daunting for the uninitiated. Although, save the jackfruit, nothing in the main ingredients should be too intimidating to someone who might want to explore.
The Indonesian menu is advertised on a little card propped up on each table. It says that the Indonesian meals are only available on weekends, but more often than not, they will offer it all the time, since most of the clientele seems to be Indonesian, and I was there on a Wednesday night.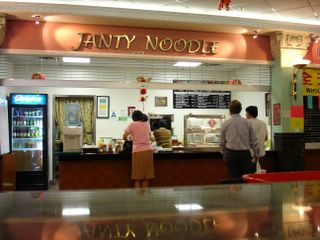 So, with this new joint, the small Indonesian specialty grocery shop, Janty Noodle and Satay Fong inside the Hong Kong Market plaza and Surabaya Restaurant down the street, West Covina is shaping up to become some sort of small Indo-Town.
368 Noodle House, Janty Noodle and Satay Fong are located in the Hong Kong Market Plaza at:
989 S Glendora Ave
West Covina, CA 91790
Surabaya Restaurant is located at:
843 S Glendora Ave
West Covina, CA 91790
(626) 337-0256