Bua Siam - North Hollywood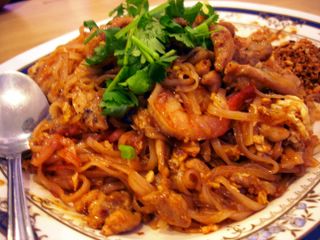 So it was with high expectations that we tried Bua Siam in North Hollywood. I've heard so many raves, from Jet Tila on KCRW's Good Food, to Barbara Hansen of the LA Times, and of course, my fellow Chowhounds on Chowhound.com. And with all things that you have high hopes for, Bua Siam didn't quite live up to it. Although, it wasn't disappointing on the scale that "Episode I - The Phantom Menace" was.
So we still thought it was a good meal. Just not great.
We started with the Pad Thai. I thought it tasted fine. Saucy, and assertively flavored, it had generous chunks of chicken meat and shrimp which were cooked perfectly. But my friend noted that it wasn't as good as Lotus of Siam's in Las Vegas. Although he was right, it was still a good plate of noodles.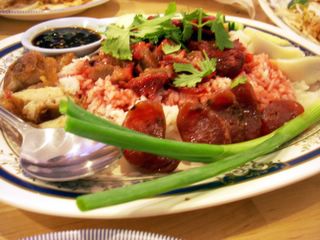 The second dish was rice with sliced BBQ pork (cha su), Chinese sausage, and fried pork. The rice, which was doused with a sweet red sauce, was a little overcooked and a bit on the mushy side. The BBQ pork was lacking in sweetness and flavor. The fried pork, with bits of fat and skin was not hot off the fryer, so it wasn't crispy. The Chinese sausage however, had a robust flavor that gave the dish its redemption. The small saucer of sweetened soy and diced chili was also amazing.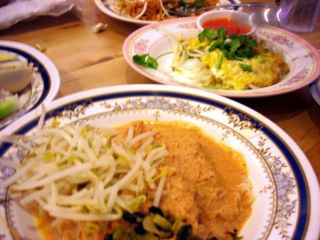 Then came the two dishes we picked out of the $2.50 menu.
They were; mussels fried in egg and batter, and Thai spaghetti with chicken curry.
The mussels, served on top of bean sprouts, were nice and plump, a perfect match with the egg. A liberal spoonful of the sweet and sour sauce that came with it punched up the volume. The sauce had a peculiar characteristic of what I call "delayed heat". Four seconds will pass before the heat registers in your mouth. "Quite sneaky," I remarked.
The spaghetti with chicken curry was made of thin rice noodles, doused with a light chicken curry flecked with coconut and pickled greens. The taste of this dish was too subtle. You know the flavor was there, but because of the boiled rice noodles, the curry hid in the background and stayed there. Overall, we were more fond of the pad thai than this dish.
Then we tried the omelette with ground pork and veggies. This dish was interesting. Not quite an omelette, and more of a ground pork stir fry wrapped with an omelette. So it wasn't a singular entity, although we managed to get a bite of egg with every spoonful of pork that we ate.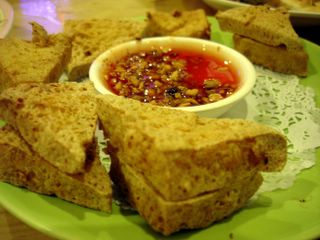 Our final dish was fried tofu. This was a simple as it gets. Triangular pieces of tofu is deep fried until crisp and served with a saucer of sweet and sour sauce and ground peanut. I liked it, but again, this is something I make often. It's not something that anyone, or any restaurant can screw up. We treated it like a palate cleanser.
The tab for our meal was around $35. We felt that it wasn't bad for the variety of dishes that we got. We were pleased and sated, even if it didn't live up to our high expectations. Thai Nakorn in Garden Grove and Lotus of Siam in Vegas still remains our favorite Thai places.
But we were delighted that the restaurant interior was clean and spotless. The furniture and decor: IKEA all the way through, from the shelves, down to the chopstick trays.
Bua Siam Restaurant
12924 Sherman Way
North Hollywood, CA 91605
(818)765-8395