Assal Pastry - Irvine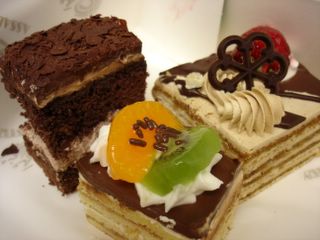 As much as I make fun of Irvine on being a gentrified and Stepford-like city, I adore this town and would like to present the case that Irvine, in fact, also has a growing and vibrant ethnic community.
Take for example the two mini Chinatowns that my city harbors. Nestled in the heart of the Irvine, and a scant two blocks away from each other, these are urban oases of Chinese culture and cuisine.
The anchor for the two Chinese plazas is
99 Ranch Market
. Here you can buy fresh produce and live seafood at lower prices than the local Ralphs. Orbiting the two 99 Ranch are shops selling Chinese pastries, boba teas, konjak ice drinks, dried fruits, Chinese cookbooks, and jade jewelry. For authentic Chinese cuisine, there's
Sam Woo
and
China Garden
, just to name a few. And finally, what Chinatown would be complete without a
Morning Glory
shop, a cutesy-girly store selling all types of pastel-colored and glitter-dusted Hello Kitty crap.
Then there's Irvine's Little Tehran. On Culver, flanked by the 5 Freeway and Walnut, this small pocket of ethnic flavor boasts a market called Super Irvine, peddling all kinds of exotic Persian treats like
Mashti Malone ice cream
. In the same plaza is
Caspian
, a behemoth of a restaurant that shares a parking lot with at least one more Persian eatery.
My favorite place in Little Tehran is an unassuming pastry shop called Assal. It's next door to a Domino's, of all things. As soon as you come in the door, your olfactory glands are hit with the heavenly aroma of roses and cinnamon. Dainty cookie baskets line a spotless counter and sublimely decorated petite cakes and pastries glisten behind a glass case.
Assal Pastry also happens to be the only bake shop I know of that sells pastries by the pound (around $8.25/lb). One night, we left with a box full of about 15 small cakes to sample to our hearts content for about $14. I've found that it averages out to about $1.00 a cake, but could be more if you choose the denser custards or fruit tarts. Although sometimes, I do find it a little disconcerting that they don't zero out the weighing scale before they put my box of chosen pastries on it. That's a pastry or two that I'm missing out on!
In any case, whatever the cost, I think these little jewels are worth it. The texture of their cakes are airy, light and spongy, with a delicate and not-too-sweet flavor. Some cakes have a silky and luscious layer of chocolate ganache. Others have mocha cream.
Assal's fruit tart, an artfully arranged rainbow of strawberry, kiwi, grape, and orange is perched on top of a cup made of a crispy, dense crust lightly painted with chocolate. It's a beautiful marriage of custard, crust, chocolate and fruit. Fried lavash, a brown and crispy flatbread is sticky sweet with a glaze made with honey and rosewater.
Yes, Irvine may be a master-planned community, proud of its low crime rates and unaffordable housing. But look beyond the staid starkness of the Irvine Company's attempt at a suburban utopia and you will find a treasure trove of ethnic flavors and cultures. It's this symbiotic relationship between these two Irvines and the pleasant dichotomy it presents that, I think, makes my city great.
Assal Pastry
(949) 733-3262
14130 Culver Dr
Irvine, CA 92604