Banh Mi Che Cali - Westminster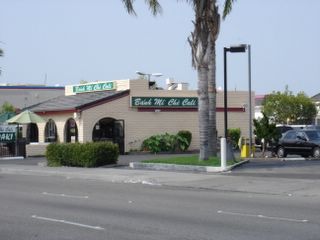 Even as the humble but still intriguingly exotic banh mi sandwich finds its way to the mainstream, the original mom-and-pop operations, like Banh Mi Che Cali, shall continue to be the bastion against its homogenization and domestication.
Still, you have to credit Lee's Sandwiches franchise in introducing it to the average American tastebud. Its gleaming stores and English-speaking employees makes these Vietnamese sandwiches accessible to even the casual foodie and soccer mom. In Irvine, California, it is strategically placed between a Trader Joe's and an In N'Out.
To its credit, Lee's takes away the uncertainty, wierdness and funk out of getting banh mi at your average Little Saigon banh mi shop. But Lee's banh mi pales in comparison to the ones served in those shops. But ask your average O.C. resident about Little Saigon, and they'll probably have a vague recollection about a swath of exits on the 405 between Irvine and Long Beach, and how they zip by without a clue of the culinary wonders that lie beyond the exit signs. If you are neither Asian, Vietnamese, or a Chowhound, I doubt you'd be "slumming" it in Westminster, especially for a sandwich. True as they say, "nothing ventured, nothing gained."
In my humble opinion and for my money, I haven't had a better banh mi than those served up by the non-English speaking gals at Banh Mi Che Cali. This location on Brookhurst and McFadden is the least intimidating of the two stores. The other, located on Bolsa and Magnolia, is more crowded. There's always a
clutterf#$%
of people pushing and shoving to the front. The employees there are, not surprisingly, ruder and have no patience especially if you're not Vietnamese. They'll actually ignore you!
Eventhough I've mastered the art (or is the "sport") of pushing myself into the front and ordering there, I find that the location at Brookhurst and McFadden is my new preferred place for three reasons. First, it's not as busy, making the servers nicer. Second, it's where the bread is actually baked, resulting in a fresher banh mi. Third, whenever I order the BBQ pork banh mi, they stuff the sandwich so full of meat that it's insane they can still manage to charge what they charge.
The deal's a steal! Buy two hoagie style banh mi's for $1.50 each and you get the third free. Essentially, it's 3 banh mi's for $3. No one ever just buys one of the hoagie style banh mi's, so you shouldn't either. But if you really only need one, you might as well spring the extra quarter (you Rockefeller!) for the baguette banh mi ($1.25), which comes in a longer, slimmer loaf of bread.
After deciding what kind of bread you'd like, you now must choose the filling, my Padawan learner. A dozen to choose from, you have! For the beginner, you can't go wrong with these three choices;
1. Thit Nuong - (Just say "BBQ Pork", which will have ruddy pieces of pork.)
2. Ga - (Just say "chicken", which will have shredded chicken.)
3. Dac Biet - (Just say "Combination", which will be a combo of Vietnamese cold cuts (ham, etc.). Be warned, this one will have pate in it...so you can request "no pate" if you don't care for that liver taste.)
All the banh mi's will have veggie fillings of cilantro, sliced cucumber, jalapenos, and shredded pickled daikon and carrots. They also may or may not have a squirt of homemade mayo and a seasoned soy sauce.
There are, of course, a myriad of banh mi shops in Westmister, all of them worthy.
Professor Salt's Banh Mi Crawl Report
is a useful guide for those in the mood for further exploration.
Wherever you go, I think it's imperative to try it at least once from these independent shops. Who knows, maybe within this decade, the banh mi will enter into the American culinary lexicon, like the taco. But before that happens, and before
Yum! Brands
has the opportunity to bastardize it, I hope everyone gets a taste of how it used to be.
Banh Mi & Che Cali Bakery
(714) 839-8185
15551 Brookhurst St
Westminster, CA 92683