Krua Thai - West Covina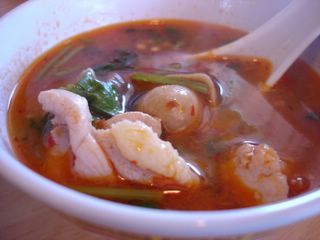 What is it about Thai food that always makes for a splendiricious meal? Is it the harminous convergence of all the essential flavors of hot, sweet, sour, and salty? Or is it the fact that it costs so little for so much great food?
At Krua Thai, just like almost all the Thai joints I've been to, it's both.
Krua Thai in West Covina, as I understand it, is one of the newer branches of this family-run chain. There are big gaudy photos of their dishes on the back wall. These are there to help those not yet well-versed in Thai cooking. You can do take-out here and use those pictures as a guide, or eat in (Don't worry their menus have pretty photos too).
The rest of the decor, while new, looks like it came from the uncool part of the late 80's. It's good to know that the set designer for "Saved by the Bell" and "Fresh Prince of Bel Air" finally found work!
Nevertheless, everything looks brand spanking new. Their plates, for example, emblazoned with the Krua Thai name, are still unchipped and unscuffed.
And although I probably can't say it's the best Thai I've ever had, their dishes are dependably good and the prices are dirt cheap. Nothing on the menu ticks above $8. Most hover at around $6.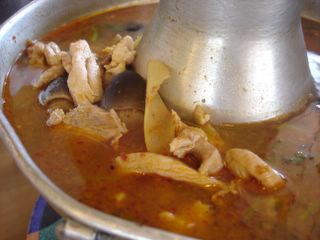 The Tom Yum Khai had a striking brick red color. Sipping this intense brew, I found it rich and murky, a welcome change from the watered-down stuff sold at lesser Thai restaurants. In this lip-smacking broth were shorn pieces of green thai chilis, fat button mushrooms, sprigs of cilantro, and juicy morsels of dark meat chicken. Swimming in it, but not meant to be eaten, were the requisite chunks of galangal, kaffir lime leaves, and lemongrass. These herby staples exuded a pleasant aroma and imparted an exotic flavor.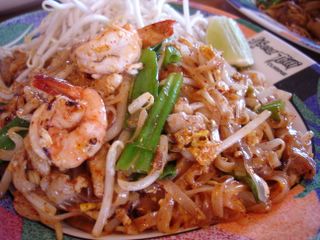 The Pad Thai was also excellent. Egg, generous pieces of chicken and plump shrimp were tossed with thin rice noodles which were expertly stir-fried with a piquant sauce. Ground peanut, served on a short mound to the side of the noodles gave it a nice earthy bite, while the cool bean sprouts soothes the palate and provides a crisp textural contrast.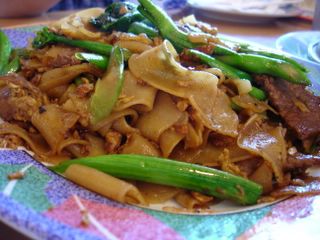 The Pad See Ew was a simple dish of flat, wide rice noodle cooked with soy, crunchy green chinese broccoli, and tender sliced beef. This was the heartiest dish on our table. A delicious and filling concoction, it was dark and salty, but we found it milder than our other choices. Chili sissies, this dish was designed specifically with you in mind.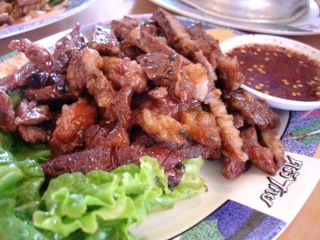 The BBQ Beef was the only disappointing dish of the bunch. The beef was cooked beyond the well-done stage and was now essentially jerky. Even as the meat itself was already overly chewy, the fatty, gristly bits that were included in the dish were beyond edible. The only saving grace was the saucer of dipping sauce that went with it. Thin, citrusy and lip-numbingly fiery because of the red chili flakes, this was about the best sauce I've ever tasted. Douse it on horsemeat and I bet it would make Seabiscuit taste good.
Krua Thai Cuisine
(626) 480-0116
935 S Glendora Ave
West Covina, CA 91790