Lotus of Siam - Las Vegas
It was 107 degrees in Vegas on Fourth of July weekend. That's right. One hundred and seven! And it took six hours of stop-and-go driving across the barren Mojave to get there.
What, you might ask, would possess me to spend that much time in a car in the thick heat of July to venture into the scorching desert?
For my friends it was the call of poker chips. For me: Lotus of Siam.
Yes, Lotus of Siam. This venerable Las Vegas institution is only about half a dozen years old, but owners Saipin Chutima and her husband Bill were already considered legends long before that. Their last restaurant, Renu Nakorn in Norwalk, California was the toast of
Chowhound
and other LA publications. All claimed it as the best Thai outside of Thailand. (Renu has been under new management since the Chutimas left for Sin City.)
This title follows them to Las Vegas as Lotus of Siam is now lauded as "The Best Thai in the U.S." by Gourmet Magazine, New York Times, and Chowhound. Look at the framed copies of the articles that decorate every square inch of the restaurant's miniscule waiting area and you might think to yourself, "How could anything live up to this hype?"
Don't worry.
It does.
My first visit to LoS was last December. It was a revelatory experience, nothing short of spectacular, made only sweeter because a friend who was hesitant in trying it with me at the sight of the LoS's ratty exterior later hailed it as the best Thai he's ever had!
This past weekend's visit was my second, and third. Yes, even with all the fine dining options at our disposal in Vegas, we returned to eat there the next night to make two nights in a row!
We arrived the first night, on Saturday, to an almost empty parking lot. The dingy strip mall was silent, save for the howl of the hot desert wind whipping by. Entering through the dusty door was like entering another dimension.
Inside it was comfortably cool and homey. No gaudy neon. No theming. No interior design distractions like your typical Vegas eatery. This place doesn't try to be hip.
It has the honest and no-nonsense feel of a small country restaurant. In fact, it could pass for an old Mimi's Cafe if it weren't for the many framed 8x10 snapshots of Ms. Chutima and her regulars. In one photo, I spotted the chef with Tyler Florence. But I scratched my head at the others in those photos. My guess is that there's at least a fellow Chowhound among the bunch. Whatever the case, all these faces were beaming at the pleasure of eating Ms. Chutima's food.
We were beaming too as our meal started promptly.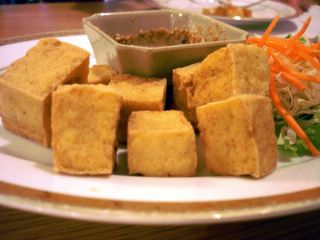 The first to come out was the Golden Tofu appetizer. A delicately crispy exterior gave way to a soft, custard-like curd. This is a palate primer, elevated with dab of the homemade tart, sugary red sauce with crushed peanuts.
Next was the Pineapple Fried Rice. Tinged yellow with curry powder, I've had this dish elsewhere as Singapore Fried Rice. LoS's version was simpler, and straightforward with the spices upfront and center. I liked this dish, eventhough I missed the cashews that dot Sanamluang's version.
Now the Pad Thai. Quite simply, the best Pad Thai I've ever had, and I've had my fair share. Deeply saturated with seasoning, the rice noodles were bold but not wet. Crisp green onion and bean sprouts added crunch and freshness. This is what I imagine Pad Thai would taste like in Thailand.
The Crispy Mussel Omelette was the best dish of all. A deep-fried, thin disc of glutinous rice and egg encapsulate morsels of juicy, ocean-fresh mussels. Served over a bed of crisp sauteed bean sprouts, this was a dance of textures. Sticky rice dough mingling with the noisy crunch of the lacy edges; rich egg waltzing with briny mussels and bean sprouts. All was made complete with the symphony of the homemade sweet, sour and spicy sauce. We fell so utterly head over heels for this dish that we ordered it again the following night.
A hearty bowl of Yellow Curry came next. Chunks of white meat chicken, potatoes, bell peppers, and onion swam in a thick, rich gravy of velvety yellow. Heaped on top of rice, this is the kind of comfort food that will lull you to sleep.
The Issan Sausage was homemade. Served grilled and sliced on a bias, it came with cabbage leaves, lightly scorched peanut, slivered ginger and red onion. The flavor was pungent and herby, but the texture was dry, almost mealy. It wasn't quite what I expected, since I am used to fatty sausages and hot dogs which burst with juices when bitten.
By this time, we were sated, but silly us...we couldn't resist ordering the ginormous Dessert Combo of coconut ice cream, sliced ripe mango, fried bananas and sticky rice. This put us over the edge and had us waddling with groaning breath back to the hotel.
The next night we vowed not to overstuff ourselves like the previous. But it became apparent soon enough that this seems impossible at LoS.
We first started with the Fried Chicken Dumplings. These were your average, normal potstickers, but what made it great was how it was deep-fried until golden and blistered. Perfect flavor and texture explosions occurred in our mouths when we dipped it in that sweet and spicy sauce of theirs.
We had to try their Chicken Satays since we spied other diners nibbling on it. These were all white meat and perfectly cooked with some slight charring. The peanut sauce was luscious and the side of vinegared cucumbers, zippy. I prefer Thai Nakorn's thicker dark meat satays to LoS's, but it's a minor quibble as the rest of my table picked each stick clean.
The Yum Nuah, or Thai Beef Salad, was laced with a chocolate-colored dressing infused with lemongrass, tamarind and chilis. Lip-smacking is one way to put it. The cool crisp garden-fresh flavors of cilantro, cucumber, tomato and lettuce contrasted nicely with the char and protein heft of the sliced steak.
The Pad See Ew was a dish I had to order for the purpose of comparing it to Thai Nakorn's version which I tried and loved a week ago. But I am still amazed that this simple dish of rice noodles, stir fried with black soy sauce and tossed with beef and Chinese broccoli, could differ so much between restaurants. Although I loved LoS's rendition, which was wetter and had more of a garlic punch, I'd have to give the edge to Thai Nakorn's since the "wok-hey" was mysteriously absent here.
The most inventive dish this night was the Koong Tenn, which were eight grilled shrimp artfully arranged atop shredded cabbage. The shrimp was "crusted" in a relish of chopped herbs, chili and onion. Each daintily rested on a leaf of mint. Popping these creatures into your mouth introduced a grassy, herbal flavor, then a crustacean sweetness, and finally, a lingering heat from the diced chili and mint.
We finished with a smaller dessert dish of Fried Bananas and Coconut Ice Cream that evening. What a thrilling combination and a fitting finish to our meal. The cooling coconut ice cream offsetting the crunchy egg-roll shell and custard-like interior of the fried bananas.
So, was it the best Thai in the U.S.?
For me to say that, I would have needed to try every Thai restaurant in the country. But I can safely say this: out of all the Thai restaurants I have been to, Lotus of Siam is my favorite because of its deftness in executing everything on its voluminous menu. One can throw a dart at the menu and be assured anything it lands on will be great.
I'm back in Orange County now, but I am already looking forward to my next pilgrimage across the desert to the Chutima's temple of Thai cuisine, Lotus of Siam.
Lotus of Siam
(702) 735-3033
953 E Sahara Ave
Las Vegas, NV 89104