On cooking longanisa
Longanisa. What looks like just a sweet, innocent Filipino sausage will reveal itself as a diabolical porcine attack on your cookware.
Let me explain.
Longanisa is a high maintenance sausage. It ain't a Hormel hot dog. You can't eat it straight out of the package. You can't throw it in the microwave and expect a meal in 20 seconds.
No. Longanisa starts out as raw meat, and it has to be fully cooked, i.e. submerged in an inch of water and cooked for half an hour until the water has evaporated. Think you're done? No again.
After the water is gone, you must fry the sausages in the pooling fat which has escaped from the recesses of the casing. This is where the assault on your fry pan begins. Discreetly, and slowly, the sugar, protein and grease hidden inside your sausage will ooze out onto the cooking surface. By the time you get a nice sear and crust on your sausage, that ooze becomes the sludge that soon burns into a solid mass of carbon.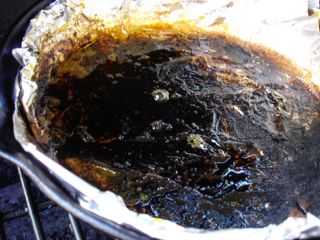 It's enough for anyone to give up cooking longanisa altogether.
That would be a shame, since longanisa is, I think, is one of the most delicious and unapologetically fatty sausages in world cuisine. If you're going to have a sausage, you might as well make it a longanisa.
The flavor is uncomplicated, just sweet and piggy. In every bite, you will almost always get little chewy pieces of fat and gristle along with meat. I serve it with rice and a dipping sauce of vinegar to cut through the sweetness.
To spare my cookware, I cover what ever pan I intend to use for the job with aluminum foil. Then I cook on this protective covering until the sausage glistens and gets crusty.
The brand of longanisa I chose this time did not impress me. It was on sale at 99 Ranch (a Buy One Get One Free offer). These sausages seemed too cloying. Next time I will stick to the my usual brand (the name escapes me at the moment) which were more lively and complex.