Pho Bac Ky - Irvine on Barranca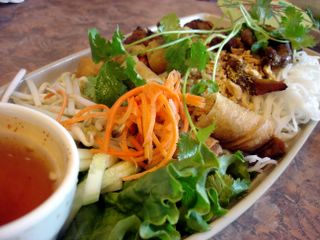 There's one nice thing about the 107 degree heat of Vegas in July. It's how positively giddy it makes you when you come back to O.C. and find that the mercury is hovering in the mid 80's. Ahhh, so this is how it feels on the coast!
Yes, it's summer in temperate Southern California, where instead of holing yourself up in an air conditioned casino, staring down a "one-armed bandit" with bleary eyes, you can go outside!
The beach! Open air shopping! The Laguna Arts Festival! We have it all. Too bad only tourists can enjoy this midweek while I'm back here at work doing what?
Staring down a monitor with bleary eyes in an air conditioned office.
At least I can taste a little bit of summer when I get dinner tonight. And thanks to Pam of
Daily Gluttony,
I was reminded of how perfect bun, a Vietnamese noodle salad, is for the summer, even if it only hits 82 degrees around here.
Like Country Time lemonade and watermelon, I think bun (rhymes with "swoon") should be made an "All-American" summertime staple. What other dish can fill you up and cool you down so satisfyingly.
The dish, consisting mainly of cold rice vermicelli noodles and chopped raw vegetables, is cooling, refreshing, yet still doggedly unvegetarian since the nouc cham is made with fish sauce. Also, what bun is complete without a few char kissed slices of meat. Topped on your mound o' noodles will be choices grilled beef, pork, shrimp, and even cut pieces of fried egg roll. Or if you are feeling particularly carnivorous, all of the above!
When you are served your bun, take the nouc cham and douse everything with it like it was on fire. This thin sauce is tart and tangy and provides all of the flavor. After that, there's nothing left to do but toss and enjoy.
Like Pam, my bun had brown slices of grilled pork (Thit Nuong) and chopped egg rolls. But unlike Pam's, my bun came in a boat.
That's right. A boat.
And as if that weren't silly enough, they stuck a dainty cocktail umbrella into one piece of grilled pork. It looked as if it was taking a leisurely cruise somewhere in the China Sea.
But no matter what vessel your bun comes in, what you get will always be the same; a pleasureable mix of sour pickled carrots, raw bean sprouts, crushed peanuts, and slivered cucumber mingling with the feather light noodles and the aforementioned grilled meats. And if you opted for the egg rolls, you also get a crunchy counterpoint which feels like shrimp-filled croutons.
Pho Bac Ky does a good rendition of bun, albeit an expensive one at $7.45 (perhaps the cocktail umbrella jacked-up the unit cost). The pork is a bit gristly in parts, but was tender with an aromatic lemongrass sweetness.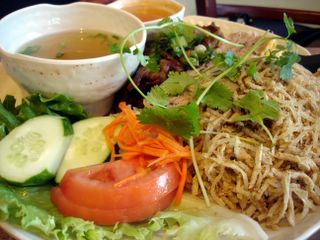 Also ordered was a formidable dish of broken rice with the same grilled pork, "julienned pork", and something they call an "egg quiche". This "egg quiche" is a dense concoction of beaten egg cooked solid with all sorts of odds and ends thrown in for texture. Chief among them; ground pork and wood ear fungus. Trust me, it tastes better than it sounds.
The "julienned pork" is actually and quite literally, pork confetti. What the confetti consists of is beyond me. The opaque pieces are most obviously pork meat, but the clear strands remind me of the crunchy stuff they put in headcheese. In any case, if you don't think about it and just eat, it is quite tasty and mysteriously wispy.
Feeling full and happy after all this food, we decided, "What summer meal is complete without an icy dessert?" Pho Bac Ky thankfully has a colorful assortment of cool dessert drinks, some of which will put you into a technicolor acid trip. My absolute favorite is cryptically called "The Black Sea". Crushed ice, black tapioca pearls, grass jelly, and the vanilla-like essense of
pandanus leaf
make a cold drink that is chunky and creamy sweet without being too rich.
Okay, August, bring it on! We got you licked!
Pho Bac Ky
4250 Barranca Parkway, Suite K
Irvine, Ca 92604
(949) 857-8808