Lucques - Los Angeles
It's not often that this O.C. troglodyte crawls himself out from Stepford country. Yes, life behind the "Orange Curtain" can be antiseptic, safe, and some might say, dull. But with a little bit of resourcefulness and the Internet, it's quite easy to find good grub and fun things to do here, without having to drive in traffic and troll for parking spots in L.A. proper.
So there usually has to be a compelling reason for me to drag my ass out to the City of Angels. This weekend, there were two. One; my friend, who is a chef at
Lucques,
told me it would be her last week there before she moved on. Two; Lucques was offering a
prix fixe three course lunch menu
for the
4th Annual U.S.A.Dine Out
.
I finally had no excuses left.
And after enduring an hour of freeway driving, and a close call on La Cienega near the Beverly Center, during which I was greeted by the traditional L.A. greeting of blaring car horns and fist-shaking, this Orange County yokel finally made it to Lucques on Melrose and La Cienega.
What happened on La Cienega you ask? I don't want to talk about it. But I just want to say sorry to y'all whom I must have p.o.'d that afternoon, in that intersection. I gotta plead ignorance...but seriously, how was I to know that wasn't supposed to be a turning lane?
Anyway, I digress. So where was I? Oh yeah. We arrived at Lucques, and to my delight, it was surprisingly easy to find a parking spot close to a nearby kindergarden.
Opening the heavy double doors of the restaurant revealed a small but sumptous dining room which was dark and deserted. The hostess informed us that the patio was open too, if we chose to dine out there. We chose the patio, since that was where everyone seemed to be.
The patio, which is actually is at the back of the restaurant, was sort of like an open air bunker, with tall white walls from the adjacent buildings enclosing the space. But the bright sunlight poured in from above, filtered by a white fabric canopy. Our table was dressed with a crisply ironed tablecloth and spotless silverware. It was a pleasant way to dine. Very European, I thought.
Sliced rustic bread, butter, sea salt, almonds and olives in oil arrived as we perused the menu. We found the
S. Pellegrino Dine-out Prixe Fixe
which read:
LUNCH MENU
$20.00 Three-Course Prix Fixe Meal*

First Course
Soupe au Pistou
With Amaranth and grana breadcrumbs

Fatoosh Salad
With tomato, cucumber, feta and crispy pita

Main Course
Torchio Pasta
With cherry tomatoes, chili, basil and anchovy butter

Grilled Chicken
With blue lake beans, fingerlings and tapenade

Dessert
Chocolate and Pistachio Terrine
With pistachio lace cookie

Summer Sorbets
With brown sugar shortbread

Complimentary Bottled Water
Your Choice of Sparkling S.Pellegrino or Non-Sparkling Acqua Panna
We ordered so that we got a taste of all the choices under this menu.
The Fatoosh Salad was cooling and light. The lettuce, fresh and crisp laced with a tart dressing and accented with crunchy fried pita chips. These chips were a great textural contrast to the chilled cucumber, tomato, and crumbled feta.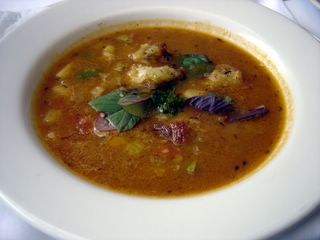 The rustic Soupe au Pistou was tomato based; dark adobe red, perky, and chock-full of legumes. The tender white beans were soft and the cut haricot verts, crisp. The highlight of the soup, however, was the crusty, coarse chunks of homemade croutons. These lent a welcome sweet and buttery counterpoint to the slight acidity of the soup and the licorice flavor of the amaranth leaf garnish. This was a great soup; pleasantly crude and comforting.
The main course of tender Grilled Chicken thigh meat rested on a bed of pureed potatoes (not the fingerlings in the menu I transcribed) topped with a pungent tapenade and flanked with cooked romano beans and caramelized onions. The romanos, flat and long, looked similar to snow peas in shape, but were more subtle and less grassy in taste. A liberal drizzling of olive oil pushed the Mediterranean flavors further into overdrive. I loved this dish, even the unidentifiable green leaves that were ten times more astringent than radicchio.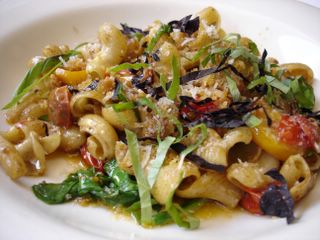 The Torchio Pasta dish was also perfect. Although it had more olive oil than I'm usually used to, this main course was surprisingly light. The pasta, resembling unfurled conch shells, were tender but still had bite. The cherry tomatoes and basil added a splash of bright color to make this a dazzling summer meal, while the dusting of seasoned breadcrumbs, anchovy butter and pesto gave it an unmistakable character.
The Summer Sorbets dessert had a feather's touch to the palate. Not too sweet, not too sour. If you could distill the essense of a perfect summer day into a dessert, this would be it. The brown sugar cookies were the perfect complement; buttery, crisp, just like you enjoyed in the innocence of youth.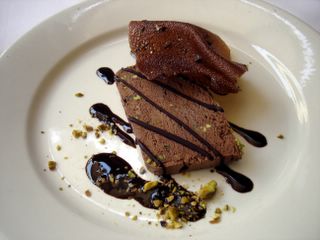 The Chocolate Terrine, however, was too dark and rich for me. The consistency was firm and dense like the nougat in a Three Musketeers bar. I am no choco-holic, so perhaps that's why I didn't fall head over heels for this one. After a few bites, I could feel the pangs of a chocolate headache coming on. Though the lacy cookie that came with it was delectable. It was like a cross between a waffle cone and hard caramel candy.
Yes, my trip to Lucques in L.A. may have been long overdue. But the food that I had made me realize that it's all worth the drive, and even the threat of violence from passing L.A. motorists.
Next time I won't wait so long...and I'm going to have someone else do the driving.
Lucques
(323) 655-6277
8474 Melrose Ave
Los Angeles, CA 90069