Phuong Trang - San Diego
Vietnamese food is easy to come by here in Orange County. The city of Westminster (and parts of Garden Grove), or as it has become more popularly known, Little Saigon, has what I hear is the biggest concentration of Vietnamese people outside of Vietnam. So it should come as no surprise that the choices for food are authentic and abundant.
Is it pho that you want? Twirl a stick on the ground on Bolsa Rd. and where ever it may stop, chances are good that it will point at a Pho joint.
As non-Vietnamese local, I've enjoyed all the culinary pleasures that this wonderful area has to offer, as well as the other Vietnamese restaurants that dot the landscape outside of this Green Zone.
It is a fact that I just love Vietnamese food. Curiously enough, however, I even love the restaurants that my Vietnamese friends seem dismiss as "not authentic".
"That's NOT Vietnamese food," they'd scoff when I expound on my latest foray into their native cuisine.
One example of this is an institution in Fullerton called Kim Loan. I've been coming to this place since I was a wee lad, and I've grown up with their bowls of pho, rice with BBQ pork, and chow mein. I've stuck with them through two devastating fires and as their prices climb ever so slowly. So have others diners as the place does a steady stream of business. If you're there on a typical night, look around and you'll surely notice nothing peculiar. But listen closely to the conversations taking place and you'll probably realize that while most of the diners are Asian, only a small percentage are actually Vietnamese.
The same, I think, is true at my local Vietnamese joint in Irvine.
Pho Bac Ky has been the subject of consternation of my Vietnamese friends who proclaim that there is no good Vietnamese in Irvine. While I agree with them in general that there few decent choices in this city for good Vietnamese, I bristle when they chide me for liking Pho Bac Ky.
While they think of it as the prime example of their argument, I think Pho Bac Ky is the exception. I find their food fresh, good and reasonably priced. Plus, I tell them, I avoid the 405 and the hell that is traffic and parking in Little Saigon when all I want is to relax and have a cool plate of bun.
So, when it came to a recent trip down to San Diego, I was eager to try Phuong Trang after reading Kirk's
review
of it on his blog,
mmm-yoso
.
In the review, Kirk remarked that more non-Vietnamese patronize this restaurant than Vietnamese.
Score!
This sounds like my kind of place!
Upon first entering the restaurant, I was pleased to see that it was larger than the exterior made it look. It felt more like a Chinese banquet hall than Vietnamese joint. Big round tables for family style dining were in the middle of the room, while smaller tables lined the walls. The crowd was predominantly Asian, but as there was a steady murmur of voices, the distinct cackle of the Vietnamese language was all but drowned out.
Our food came out shortly after we ordered. But it took a while for the waiters to realize that since we had five people in our party, we needed five glasses of water and five sets of utensils, not just the four that they had given us.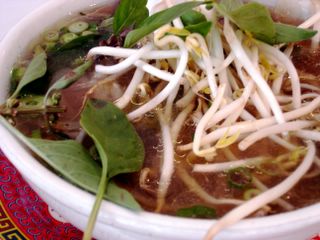 The first to come out was the Pho Tai. Served with generous bowl of fresh herbage, the soup was sweeter than most of the pho's that I've had the pleasure of tasting. However, this was a spot on twin of the pho that Kim Loan serves, which is a good thing in my book. Though I suspect that this is the type of pho which will turn a Vietnamese diner against Phuong Trang. "Sah mooee! Too sweet," I can imagine them moaning.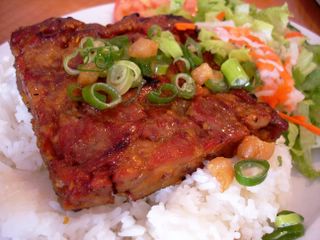 The Thit Nuong, or BBQ Pork with rice was excellent. At first I was afraid that the server got our order wrong, because instead of thin slices, the pork was in some sort of a compressed block. It looked more like Nem Nuong (the grilled Vietnamese ground pork patty) than Thit Nuong. But upon a little gentle prodding with my spoon, this meatloaf-looking mass fell apart to reveal smaller chunks of pork, which had a deep, marinated sweetness. I liked it better than the rest of my party, however, who were undoubtedly expecting a more familiar execution of the dish.
The Combination Crispy Chow Mein was the most intimidating dish on our table. Not that it had anything exotic or scary like
writhing octopus tentacles
on it. It was just huge, with a bulbous bouffant of fried noodles acting like a nest to the chop suey veggies and meats. The noodles, while crispy, weren't nearly as satisfyingly dense as I am used to. The gravy was tasty, but could have been more savory; maybe a little more MSG would've done the trick. Despite all outward appearances, the dish was actually quite light to the touch. The chunks of protein, which included squid, fish balls, shrimp, fish cake, and scallop were fresh and pleasantly squiggly.
Eventhough I didn't get to sample the restaurant's version of Chow Fun, it looked like the gravy component was the same as the Chow Mein. I would guess that it probably worked better with the soft, wide rice noodles.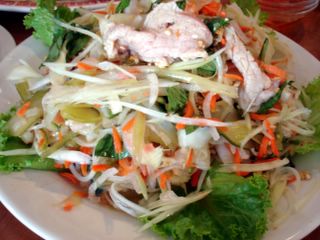 The Beef Salad was the probably the only disappointing dish we ordered. It functioned more like pickles than salad for the duration of our meal. The thickly sliced beef in the dish was fibrous and chewy. It appeared that it was blanched quickly in hot water and had the pallid, white appearance of pork. The rest of the julienned roughage consisted of what I think was young mango, daikon, onion, carrot and cucumber. The dressing was the deciding factor on this dish's success and unfortunately it fell flat. The overriding flavor was the sweetness of sugar and the tartness of white vinegar. Imagine a sweeter version of the daikon/carrot pickles they put in Banh Mi, and you've got it. A fine palate cleanser, but a poor salad.
Moving from my least favorite to the best dish of our lunch; the Deep Fried Shrimp. This dish was simply other-worldly. Never before have I had such a magnificent plate of fried shrimp. These plump crustaceans are served with the shell and head still attached, just as you would see it done in Chinese seafood restaurants as Salt and Pepper Shrimp. But this dish trumps anything I've tasted before. The secret lies in the light crust used on the shrimp. Along with providing a nice textural crunchiness, it packed a salty, sweet, and garlicky punch. A sprinkling of diced red bell pepper and green onion rounded out this masterpiece of a dish.
San Diego may be far away from Little Saigon, but with dishes like these, I doubt they'd miss out on the wonderful food the culture of Vietnam has to offer.
Phuong Trang Restaurant
(858) 565-6750
4170 Convoy St
San Diego, CA 92111