Ten Ten Seafood - Artesia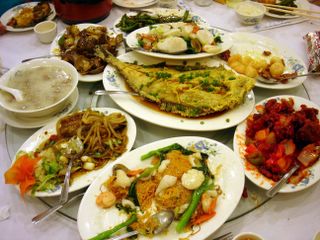 Nothing equals the experience of a traditional Chinese feast, where upon dish after dish crowd a Lazy Susan enticing the eyes and stomach with a dizzying and colorful array of choices.
Chopstick in one hand, I use my other to twirl the turntable like a contestant on Wheel of Fortune, stopping only until the plate of food I want is in front of me. My actions topple a water glass across the table as the dishes sweep by, knocking every obstacle in its path. Outta my way!
Spin! Spin! Spin!
I grab a glazed walnut from the dish of Honey Glazed Walnut Shrimp and bite down into it. It's like candy; crunchy and coated with crystallized honey. Then I pop a plump, bulbous shrimp into my waiting mouth. It is succulent and sweet, with just the right amount of mayo sauce perking up my taste receptacles. Afterwards, I shovel some rice to cleanse the palate for the next morsel.
Oooh! What's this? Scallops with Stir Fried Vegetables? I spoon some into my rice bowl. The scallops are enormous and thick, like steaks. It's meltingly soft and briny.
Spin again!
That Deep Fried Flounder is calling my name now. I tear off a piece of flesh from the fish and dab a little of the soy broth onto it. The flounder has a firm yet supple texture, while the light crunch of the batter complements.
I take some Dry Fried Green Beans next. These were first oil-blanched until they blistered, and then stir fried with lots of garlic. Yum! Each bean pod still retained that crunchy bite.
Spin! Spin!
I ladle some hot congee into my soup bowl. Then I slurp with gusto. It's a warm, starchy refresher with little bits of chopped beef for flavor.
What's this now? Clam with Black Bean Sauce! I position the half shell in my mouth and extract the clam belly, scraping it clean with my front teeth. The salty and pungent fermented black bean gives it a nice funk. The onions and bell peppers contribute a veggie crunch contrast to the squiggly, slippery clam meat.
Oooh, there's the Oysters with XO sauce. These suckers are huge and fat, like little sea pillows! A little too big for my taste though. The meat is spongy and has that green pulpy stuff in the middle. Never did like oysters when they get this large. The XO sauce is tasty, but a little too oily.
I try the Crispy Seafood Chow Mein next. It's excellent. Satisfyingly crisp deep fried noodles, delectable gravy and fresh chunks of seafood.
Spin again!
Wait. Is that Sweet and Sour Pork?!? Who ordered this? I'll pass! It has a color that should not occur in nature.
Everything tastes better when served on table that spins.
Ten Ten Seafood Restaurant
(562) 402-2428
18868 Norwalk Blvd
Artesia, CA 90701