Sea Harbour Dim Sum - Rowland Heights
Dim sum. How different would it taste without the wait? If it is true that the spring wouldn't be as sweet if there was no winter, dim sum must taste proportionately better the longer the wait, right?
That's what I told myself when I was stuck in dim sum purgatory this past weekend at Sea Harbour in Rowland Heights.
The hostess, presiding over a podium with a notebook and a stack of paper scraps printed with numbers, handed me one with "91" on it. "Twenty to thirty minutes," she said. No problem. We can do thirty minutes.
The dim sum waiting room was full of people like us, standing around, sitting, milling, twiddling thumbs. Old Chinese ladies with sleepy eyes. Spiky haired teens with Gap ensembles. Families with smiling toddlers in tow. We were all there waiting for a taste of what would be our lunch.
Thirty minutes came and went without our number being called. Hmm, what's the hold up? My stomach growls.
Thirty five minutes. The hostess announces another number, in Mandarin first and then in English if she doesn't get a response. We find that it wasn't "91".
Forty minutes. Another number. Nope that's not ours either. But at least they're up to the 80's. We could be next! I shift in my seat. The faces in the crowd blur. Hey, these people waiting. They're new. New faces. That means we're definitely next! "Seventy-five. Number seventy-five!" WTF!?! Why are they going backwards? Maybe we should get a snack. It's 1:30 already! Aren't you hungry? I'm hungry. I am reminded of the Chinese restaurant episode on Seinfeld.
Fifty minutes. Okay. Any time now. "Ninety-one. Number ninety-one!" Woo hoo! That's us! That's us! We leave the dim sum limbo, and all those hungry saps still in it.
We enter an elegant space, clean white linen tablecloths, sparkling overhead lights, the aroma of food. Are we in heaven? Might as well be.
We quickly jot down our order on the provided sheet of paper, which has nothing but Chinese characters on it. This isn't a roving cart kind of place, so we carefully pick from the photo menu and transcribe the numbers onto our order sheet.
The prices range from $1.98 for the Small, $3.20 for Medium, and $3.95 for Large.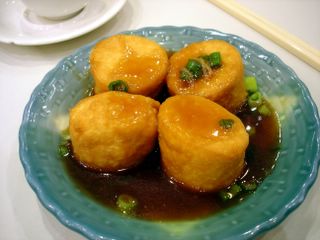 First to come was the Tofu in Abalone sauce, which was silky smooth. The mild-tasting custard of the tofu a perfect blank palette for the briny brown gravy and diced scallions garnish. The texture was so supple and soft that slurping is probably the only way to not waste a single curd.
The Spare Ribs was luscious and fatty; just the way I like it. Sweet and tender, I the meat came off the bone with a gentle tug. The flavor of fermented black bean was absent from this dish, but I didn't miss it. There was nothing obscuring the pig flavor and essence from reaching my palate.
The Juicy Pork Dumplings, came in tight purses which burst with hot broth when I bit into it. These rival those I've had at Din Tai Fung, although I missed the tangy tartness of the vinegar dip that is normally served on the side. I rely on that vinegar to cut through the fatty pork, but this time, Sea Harbour only provided a saucer of soy with a dab of shredded ginger. Still great though.
Next was the Shrimp Wrapped in Rice Noodle. The rice noodles were pleasantly chewy and soft, but the shrimp had a little too much cornstarch which muted its freshness. The thin soy sauce "broth" that doused it was perfect and slightly sweet.
The Seafood Roll was the standout of the savory dishes we had. Crepes were stuffed with mayo and large chunks of scallops and shrimp, then breaded and deep fried. A textural contrast of the crispy and creamy. A few sips of hot tea will be necessary to offset the richness of this dish.
We ended our meal with another fried dish. This time it indulged our sweet tooth. The Fried Banana had a hard outer coating, massively crunchy. The interior was the exact opposite; the banana was so soft, it oozed. There was a thimble sized nub of sugary red bean paste hidden inside as well; a pleasant surprise.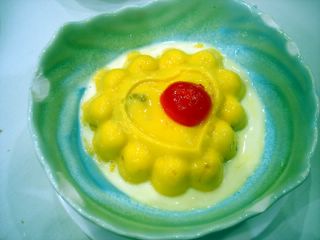 The final sweet dish was the Mango Pudding in a puddle of sweetened milk. This puts every other mango pudding dessert I've had at dim sum restaurants to shame. Why? This actually tasted like mango! Silken, pulpy pieces of the fruit was embedded within and all throughout. Unlike those lesser renditions that rely on orange food coloring for brightness, Sea Harbour's mango pudding took their cue from nature. And just look at that cute heart-shaped mold they used. Just darling!
From dim sum purgatory to dim sum heaven in 50 minutes!
Sea Harbour Seafood Restaurant
(626) 965-2020
1015 Nogales St
Rowland Heights, CA 91748
*Note: The Rowland Heights Sea Harbour has been sold. It is now called Happy Harbour.