Tommy's Sushi - Tustin
Well, I finally got my fix for deep fried shrimp heads last night. This after two marvelous and drool inducing posts from Pam of
Daily Gluttony
and Kirk of
mmm-yoso!
implanted the idea into my head.
All day long I was haunted by a novelty song from the old Dr. Demento show, called
"Fish Heads"
. Substituting the "fish heads" with the object of my epicurean desire, these words rang in my skull:
Shrimp heads, shrimp heads,
Rolly polly shrimp heads,
Shrimp heads, shrimp heads,
Eat them up,
Yum!
Tommy's Sushi in Tustin would be where I would feed my craving and, hopefully, banish that goddamn song out of my brain!
Tommy's is one of those neighborhood sushi joints that, I gather, has been there forever. As such, the clientele are mostly locals looking for california rolls and teriyaki. And they're a raucous bunch, toasting each other happily at the sushi bar with their Sapporos held high. It's just about impossible to get a seat at Tommy's on a Friday or Saturday night.
The atmosphere befits a joint of this type. There are booths that look like tatami rooms, but with the middle dug out for your legs. Kitschy red paper lanterns dangle in a dimly lit room. And it's perpetually dark in there since no windows exist to let in any ambient light.
The food is not up to par with more traditional establishments like Shibucho, but you'd be silly to expect that it could be. The sushi Tommy's serves can be a hit or miss, and most of their combos, usually containing a teriyaki of some sort, is uninspired.
But they do two things well. Actually, very well, in my humble opinion, bringing me back again and again. They are, of course, the deep fried shrimp amaebi heads and the poke bowl.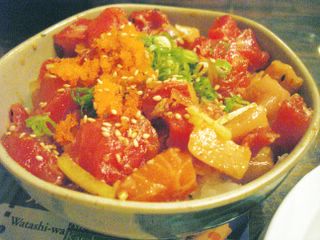 The poke bowl, going for $9.75, is the best value Tommy's offers. A healthy mound of tangy sushi rice is topped with a generous helping of crabmeat, julienned cucumber, capelin roe, chopped green onions, and chunked raw tuna and salmon dressed in a tart and spicy dressing. The bright colors are a feast for the eyes while the fresh and silky textures satisfies the palate. This would be a filling meal for those dining alone.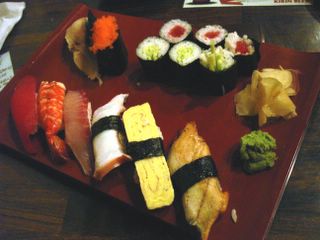 The combo sampler of nigiri ($11.95) was less successful. The hirame (halibut) tasted off, while the others were no better than anything I've had at Sushi Boy. My girlfriend and I agreed that after our
Shibucho experience
, this nigiri wasn't up to snuff.
The amaebi (sweet raw shrimp) was fine, but staggeringly expensive at $4.50 when you think that it's really just two small bites of neutral-tasting raw shrimp. But of course, the point of ordering amaebi (at least for me) are the:
Shrimp heads, shrimp heads,
Rolly polly shrimp heads

...which, of course, were great! These leftover shells and heads, byproducts of the raw shrimp nigiri sushi, are rendered until crackling in boiling hot oil. Then it is served golden and crispy with a wedge of lemon.
Biting down on the feelers, eyeballs, antennae, head and carapace results in a lovely crunch, similar in texture to an extremely well-done, deep fried soft-shell crab.
Like divine pork rinds of the ocean, with a briny pulpy center and spiky appendages that could easily poke a hole through your cheek, I realize that it is an acquired taste. But it is one addiction that I am always happy to indulge.
Shrimp heads, shrimp heads,
Rolly polly shrimp heads,
Shrimp heads, shrimp heads,
Eat them up,
Yum!
Tommy's Sushi & Japanese Restaurant
(714) 669-2969
1051 E Main St
Tustin, CA 92780