Indo Kitchen - Alhambra
Indonesian food. Of all the Asian cuisines, it's even lower in popularity and acceptance in the U.S. than Filipino food.
If Filipino cuisine was the
UPN Network
, Indonesian cuisine would be
PAX TV
.
Indonesian food, for those uninitiated to it, could be best described as a heartier version of Thai food. The base flavors like lemongrass and coconut milk which inhibit Thai cuisine are also present in Indonesian food, but Indonesian cooks employ other, somewhat more exotic ingredients, like the indigenous "kecap manis", a thick, gooey soy sauce sweetened with palm sugar. And spices like coriander, cumin, and galangal aren't in short supply in the food either; a testament to
Indonesia's
history in the spice trade.
In terms of preparation, Indonesians favor more stews than stir fries, and more rice in their soups than noodles.
I like to call Indonesian "the soul food of South East Asia." It's a stick-to-your ribs kind of cuisine. Take for example the well-known dish,
sate
(sa-tay), sticks of grilled meats eaten with peanut sauce. This specialty, which originated from Indonesia, is a common appetizer in Thai restaurants. The Indonesian original, by contrast, is usually so bold and rich that it must be eaten with rice. Sometimes, it is served along side a murky goat curry called "gule" (pronounced "guh-lay").
So why is Indonesian food a mere footnote in the Southern Californian restaurant scene? The answer, I think, is simple. There are few Indonesians immigrants around. The diaspora is dispersed and few, so it should come as no surprise that Indonesian restaurants are found in obscure places, like dandelions carried by the breeze.
With the recent exception of a
cluster of restaurants
that popped up in and around the Hong Kong Market in West Covina, the older, more established Indonesian joints are flung between Bellflower (Toko Rame ), Los Angeles (Indo Cafe), Westwood (Ramayani) and Diamond Bar (Asian Deli). There are a few more I can count just by using the remaining fingers on my hand.
One of those is Indo Kitchen in Alhambra, which I recently tried for the first time.
In a quiet corner of the city's downtown, the Indo Kitchen storefront is wedged inside an old, weathered building. Color snapshots of their food are taped on the windows facing out to the street, in the hopes of enticing the occasional clueless pedestrian.
But once I entered the cramped, yet cozy dining room, it was obvious that only Indonesian ex-pats and the occasional Dutch patronized this place. Of the few faces in the restaurant that day, none seemed to be there by chance. No one had walked in from the street just out of curiousity.
Neither were we.
We were enticed by the
recent review
Jonathan Gold did on the place (which was proudly framed on the wall). We sat and ordered a few items to sample. Shortly thereafter, our desserts came out.
Wait-a-minute....desserts!? Whaaaa?
I had forgotten that Indonesians regard the dessert we ordered as a drink. So it is customarily served before or with the meal.
The Es Campur (which literally means "ice mix") is a heaping bowl of shaved ice drizzled with rose syrup and sweetened condensed milk. Underneath this mound hides chopped jackfruit, grass jelly, palm seed, and avocado. It was a refreshing, colorful, albeit overwhelmingly sweet start to the meal.
The main course quickly followed. My order of Gado-Gado (which loosely translated meant "a dish without rice"), is a crunchy salad of boiled water spinach, bean sprouts, green beans, cabbage, and shredded lettuce. Fried tofu and hard boiled egg add some protein to the dish, while shrimp chips contribute a crunchy constrast.
The one component that makes or breaks Gado-Gado is the peanut dressing, and I'm glad to report that Indo Kitchen's did not disappoint. It has a rich consistency imparted by the ground peanuts and coconut milk, while aromatic hints of lemongrass and coriander provided character. Imagine it as peanut butter kicked up to overdrive.
I did wish, however, that they went a little easier on the amount they poured on the salad. The whole dish was drowned in the sauce, and the subtle flavor of the vegetables were overpowered in the deluge.
The Nasi Campur that my friends ordered, despite the Indonesian name (which translates to "Combination Rice"), was *NOT* Indonesian at all. You should have seen our puzzled looks when the bento box (yes, you heard me right...bento box) was served to us, with nary any Indonesian food on it! Where was the Rendang? Where was the Perkedel?
As it turns out what we should've ordered was the Nasi Rames, which had all those things I was expecting.
This dish we ended up with consisted of an overly gristly and sugary cha siu (Chinese BBQ Pork), a hard boiled egg under an avalanche of soy-cooked ground pork, fried chicken katsu, a pork sate, a bowl of clear soup, and a mound of rice. My friends did not object to the dish, but then again, they aren't Indonesian. I suspect that this meal was designed by the chef as a proxy to non-Indonesians who wandered into the restaurant by mistake.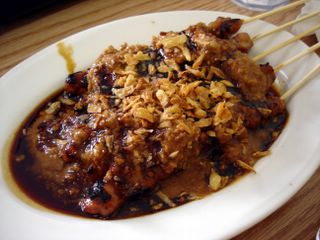 We made up for it by ordering a side of chicken sate, which was quite authentic and smothered in peanut sauce and fried shallots. Eventhough the meat of the chicken was dry, the savory-sweet and lip-smacking sauce compensated. This concoction, accented by a liberal drizzling of the syrupy "kecap manis", is great eaten with rice.
Once we left the restaurant, I was full and happy. Yes, you could say, "I was sated from the saté". Pun intended.
Indo Kitchen
5 N 4th St
Alhambra, CA
(626) 282-1676