Nory's # 3 - Lake Forest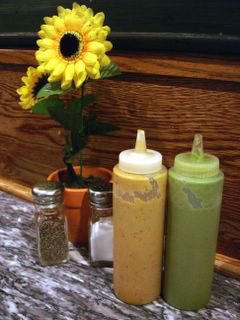 Peruvian is the truest form of "melting-pot" cuisine. Throughout its rich and troubled history, Peru has seen an influx of Chinese, Japanese, and European immigrants who have influenced its food. The result is a unique "fusion" of traditional preparation of indigineous ingredients spiced-up with European touches and Asian techniques, brewed and refined through time.
As with the first two Nory's Restaurants in Stanton and Anaheim, Nory's #3 in Lake Forest finally provides us South County residents with proper renditions of the food in a space typical of a good Peruvian joint. Hand-painted murals of Machu Picchu adorn the walls and a TV blares the evening news in Spanish.
And just like any other Peruvian restaurant, warm rolls are served with the requisite chilled plastic squeeze bottles of aji salsa.
The green aji has the dull-green color of jade. It's bracingly herby and garlicky; a smooth puree of the aromatic and pungent. Constrastingly, the orange colored aji harbors a fruitier tang but burns hotter at the back of the throat. Errant rocoto chili pepper seeds sting like darts on the tongue, amping up the sauce's
Scoville heat rating
.
A liberal squirting of this salsa can make anything palatable. But squeeze on a healthy dollop of the sauce on the preferred delivery device, a torn piece of a lightly toasted roll, and prepare to sweat.
For one of the main entrees we chose the
Arroz Chaufa con Pollo
, Peruvian fried rice with chicken.
As those who are familiar with Chinese cuisine might have guessed,
chaufa
is derived from
chow fun
, which means "fried rice." Along with the name, the Peruvians have adopted the technique and perfected this dish using a blazing hot wok. Originally conceived as a method with which to reinvigorate day-old rice for consumption, just about every culture in Asia has a version. But what sets the Peruvian
chaufa
apart from any Asian fried rice is the added kick of spices and inclusion of the crusty-brown seared chicken morsels. The springy and well-marinated dark meat pieces transforms what is typically a side dish into a substantial meal.
Bistek a lo Pobre
is dubbed "poor man's steak," but even Bill Gates himself would be sated for days after eating this hearty and hefty dish.
It starts with the steak, which has been pounded so mercilessly with a tenderizing mallet that the final product is delicate enough to be torn apart with two bare fingers. The thin, deeply-flavored and spiced slab of beef is seared quickly and served with a sunny-side up egg on top.
What would have been the ultimate Atkins meal is then flanked with a carbohydrate triple-threat.
Underneath the steak and egg lies a base of homemade fries and fried plantains. The potatoes were unfortunately limp and oily. But wait, remember that aji? Slather a good amount of that lip-burning sauce on the fries and "voila," it is saved!
The plantains were perfect by themselves. Its caramelized crust was the fitting compliment to the subtle and starchy banana sweetness of the flesh.
And then there's the spherical mound of rice formed by an upturned bowl. It's not just ordinary rice either. It is cooked with chicken broth and/or coconut milk which makes each grain emote an aromatic flavor and scent.
If you're hankering for Mexican, Chinese, or Italian food and can't decide on which to eat, Peruvian is the cuisine for you. It's the happy bastard child of everything that is good about food in these cultures.
Perhaps ex-president
Alberto Fujimori
was longing for a taste of it when he was
recently arrested in Chile
after a half-decade of exile in Japan. If only he'd known that he could've gotten his fix at Nory's in Lake Forest.
Nory's Restaurant
(949) 458-0318
23798 Mercury Rd
Lake Forest, CA 92630