Fisherman's Restaurant - San Clemente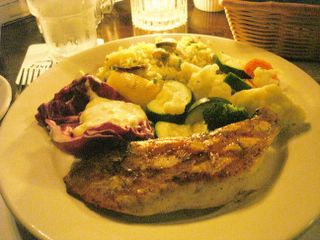 The salty sea air whipped past our ears, frigid and biting like icicyles on naked skin. It was barely 5:30 pm, but the sun had long ago dipped below the horizon, leaving the sky and sea as black as ink, the two merging into a singular dark void, vast and cold.
We could hear the soft sound of waves breaking on the sand in the distance, but could not see it. San Clemente Pier stood before us, stretching out far and long, distinguishable only by a line of faint, flickering dots of light reaching out into the darkness of space.
On the pier, nearest to shore, was Fisherman's Restaurant, our dining destination for the night. It's split into two halves, separated by the creaky wooden walkway of the pier itself. On one side was the bar, filled to capacity with Friday-night revelers; on the other, the seafood restaurant, which was relatively somber by comparison.
We walked up to the restaurant and flung the door open, our cheeks red and raw from the onslaught of the brisk wind. Inside, it was toasty warm, cozy and cramped, every table occupied with people who were just as glad to be out of the chill. The far side of the room was adorned with wide plate glass windows looking out into the pitch-black.
I looked around and noticed immediately that a majority of the diners were from the "Lawrence Welk" generation, whom I dare say, were there to partake on "Sunset Special," available only between 4-6pm on weeknights.
For $13.95 they are heartily fed with chowder or salad, a choice of main entree with roasted red potatoes or rice pilaf and steamed vegetables, followed by vanilla ice cream or sherbet for dessert. All this can be enjoyed while presumably basking in the last drops of daylight and listening to lapping seawater.
We were too late to enjoy the Pacific sunset, but were fortunately early enough to take advantage of the special.
The clam chowder was good and hot, a thick and rich elixir chock full of clams and chunked potatoes that slowly brought up my plummeting core temperature with each spoonful. It was nothing fancy or gourmet, but its warmth was just the thing I needed.
The calamari steak entree was lightly breaded, pan fried to a golden crisp, and topped with zesty capers. Contrary to my expectations, this slab of squid meat wasn't the least bit rubbery. Instead it yielded easily to my butter knife, and chewed much like tender shrimp with all of its sweetness. The capers functioned like concentrated flavor pellets, becoming tart and salty counterpoints. The tartar sauce, glopped on to a cupped leaf of cabbage, was almost unnecessary.
Another surprise was the side of steamed vegetables. When I see carrot, cauliflower, broccoli, and zucchini piled in a heap, it's usually the sad, tasteless, wilted, and soppy mess of microwaved
Bird's Eye
. This was different. Cut in-house and steamed to order, each chunk of produce was cooked crisp-tender, with not a single mushy morsel in the bunch.
The roasted potatoes were well-cooked too; crusty brown skins left intact, leading into buttery-soft pulp, perfectly and simply seasoned with dill and salt.
In case you're keeping track, that's three for three!
The second dish was grilled ono. This thick slab was grilled over mesquite, rendering the fish flaky and moist with the smoky flavor of the wood permeating deep into the flesh. A dusting of Cajun spices, to borrow an already overused and clichéd catchphrase, "kicked it up a notch."
This was accompanied with the same steamed veggies and fluffy, nutty rice pilaf.
Finishing this hot meal with a frozen dessert seemed counter-intuitive, but everyone else was doing it. And since it's included in the price of the meal, how could we refuse?
We drove away, into the city lights and the freeway back to Irvine, with full bellies and warmed spirits.
Fisherman's Restaurant
(949) 498-6390
611 Avenida Victoria
San Clemente, CA 92672