Zon Baguettes - Tustin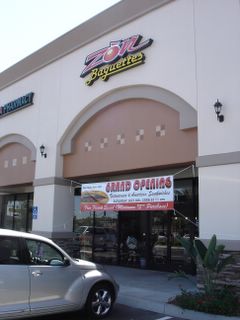 I heart Tustin.
Time and time again, it has proven itself as a fertile breeding ground for unique and eclectic restaurants. It's no wonder that when hunger hits, my mind and stomach inevitably wander into Tustin: one of O.C.'s best food towns.
Zon Baguettes
is just exactly the type of place I expect to find here. A Vietnamese sandwich shop far removed from the hustle and bustle of Little Saigon's Bolsa Avenue, with no ties to any corporate franchise, it is an independent in every sense of the word -- a fitting new entry to Tustin's remarkable restaurant repertoire.
But its grand opening this past Saturday occurred without fanfare. There was a plastic banner draped over the front of the shop advertising the time and date of the event, but otherwise the traffic on Newport Avenue was oblivious. Most of the customers present that day seemed to be personally acquainted with the owner; well-wishers bringing gifts of plants tied up with bright red ribbons.
Nonetheless, the store was still busy with activity. And the space it occupied, although a fraction of the size of
Lee's Sandwiches
in Irvine, was just as polished.
I sampled three of their
banh mi's
, walking away with a free promotional baguette to boot.
Although the
Shredded Chicken
banh mi
($2.00) was what I ordered and paid for, it wasn't what I received. Instead, they mistakenly wrapped up a
Grilled Chicken
, which was actually a few cents more expensive.
For the sandwich, charbroiled strips of white meat chicken was stuffed inside a French bread hoagie roll with the usual suspects of pickled carrots/daikon, sprigs of cilantro, sliced cucumber and scorching jalapeno. The meat -- smoky sweet and moist -- went well with the accoutrements and most of all, the bread, which was supple with a hearty crust.
The
BBQ Pork
banh mi
($2.00) was adorned with thin slices of the Chinese restaurant staple,
char siu
. Lean and rimmed with red food coloring, the pork was tooth-tender, but it was the snappy and cooling garden fresh veggies that made up the bulk of the filling - a feature that had my inner vegetarian rejoicing.
However, had the carnivore in me not been suppressed by the muggy weather, it would have lamented that the skimpy serving of swine was swaying to the sorrier side of satisfactory.
They were more generous with the
Special Combo
($2.75) which was layered with a few flaps of
char siu
and other cuts of meat they called "Vietnamese bologna" and "jambon." An earthy smear of chicken-liver
pate
was also present, but almost undetectable.
Still it was a tasty sandwich and quite filling since it's bigger and longer than the average
banh mi
. As a result, just one was enough to amply stamp out my hunger.
But if the sandwich hadn't been enough, there was that baguette that came free with a $5 minimum purchase. Tearing into it revealed a fluffy interior which came alive with slathering of butter. Each chewy bite produced a savory-salty tang and the mildly tart, intoxicating aroma of yeast.
The crust, although not as satisfyingly crackly and crisp like those at
Top Baguette
in Westminster, is worlds better than the rock-hard loaves sold by
Lee's
, which has the uncanny ability of cutting-up my cheek and inducing jaw fatigue within minutes.
Zon's baguettes are gentler souls, at home and at your service, here in Tustin.
Zon Baguettes
(714)731-1366
14081 Newport Ave.
Tustin, CA 92780