The Cravery - Irvine
"There's no 'I' in 'team', but there's an 'I' in 'pie.' And there's an 'I' in 'meat pie.' The anagram of 'meat' is 'team'..."

- Shaun in Shaun Of The Dead
If I told you that I had an idea for a restaurant that specialized in meat pies, would you tell me it sounded as gimmicky as joints who do low-carb wraps or food served in
Crispy Cones
? Would you tell me that meat pies might sell in Great Britain but never in health-conscious California? Would you ask me, "Who'd pay $5 for a glorified
Hot Pocket
?"
What if I told you that I'd design my meat pies so that it can be eaten on-the-go, handheld like so many sandwiches, made with gourmet ingredients? What if I told you that I'd spruce up the place with professionally shot glossies of preening models with Colgate smiles eating my pies? What if I told you I'd offer a range of garden salads, soups, and more than a dozen varieties of fillings, some with globe-trekking appeal and jazzy names like
Chipotle Chicken Fajita
and
Spicy Chicken Kung Pao Wow
? What if I told you my target market was upwardly mobile professionals looking for an alternative to the usual fast-food vittles? Then what if I showed you a business plan which detailed how my meat pie empire would franchise, ready and poised to entice the burger and fries crowd away from the Golden Arches?
The Cravery
was undoubtedly borne out of such a pitch.
Founded by a
USC MBA and his uncle
, a professional baker with years of experience in the food business, the restaurant reeks of careful thought and planning. The corporate touch is evident from the cute little name tags pinned on top of each pie, to the immaculately designed logo carved out on each seatback.
Usually, with high concept places like this, the food takes a back seat to the design and marketing. But surprisingly, the pies were actually quite tasty, eventhough they were plucked out from under a display case equipped with heat lamps.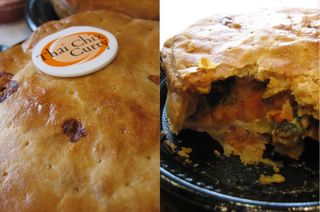 Although it didn't taste like any Thai curry I've ever had, the
Kickin' Thai Curry Chicken
pie ($5.25) was still vaguely Asian, with chunks of white chicken, wilted red bell pepper, button mushrooms, and a sauce accented with garlic, lemon, and ginger.
The pie crust that held it in was a sturdy construct. Flaky, buttery, like a good Spanish
empanada
, I ate it on a plate with a fork and knife. I didn't test out how the pie would fare if I held it aloft like a sandwich, but judging by the crumbs accumulating on my plate, I'd sooner eat a
Sloppy Joe
in my car, unless I had a dustbuster at the ready.
For a few bucks more ($7.50), you can pair the pie with a salad or soup. I chose the
Apple Gorgonzola Salad
, from a refrigerated shelf. Dried cranberries, three thin slices of sour green apple, and cubed crumbles of the tangy cheese topped a bowl of field greens. A plastic satchel of creamy raspberry dressing and a packet of crushed pecans came on the side.
Assembly was required, but the result of my efforts was a salad that was quite refreshing. The tart apple nicely contrasted the rich and heady gorgonzola, and the bitterness of the baby spinach in particular, tamed the cloying sweetness of the dressing.
Still not sold on the concept of a meat pie restaurant? Well, I can tell you it's a better idea than a shop that only sells
muffin tops
.
The Cravery
(949) 727-3663
6638 Irvine Center Dr
Irvine, CA 92618